Mi Gun Jeoung is the 2021 winner of the Dr Joan Faoagali Award which allocates $1,000 towards Foundations of Infection Prevention and Control fees. Mi Gun works infection control at Auburn Hospital and has almost completed her Foundations studies. Read our interview with Mi Gun.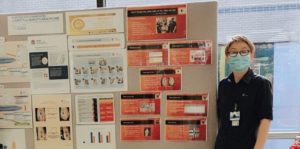 Congratulations on winning the 2021 Dr Joan Faoagali Award! What can you tell us about your IPC role at Auburn Hospital?  
Auburn Hospital is an acute healthcare facility in metropolitan Sydney and is part of the Western Sydney Local Health District. It is lovely to work at the Auburn Hospital. The staff are friendly and work to provide the best care for the patients. I am a solo Infection Prevention Practitioner in the facility. I have been involved in all sorts of infection prevention and control work, for example, coordinating Personal Protective Equipment during the COVID-19 pandemic. I could have never imagined I would be doing this task as an ICP.  
Each day I provide advice and IPC oversight to maintain a safe environment for patients, visitors, and staff. My day starts with conducting ward rounds and making sure Standard precautions or Transmission precautions are applied correctly. I love to help people and am passionate about keeping the environment safe for everyone.  
During flu season, I administer flu vaccines for staff and this is an excellent opportunity to get to know all staff at my facility. 2020 was a challenging year for everyone, but it was a fantastic time to learn and adopt the role.  I survived in 2020 as an infection control professional so I feel I can overcome any hassles in the road ahead!  
You have almost completed the FIPC course, what have you found most useful in the day to day to the work that you do?  
I have found "Exploring the concepts and science of HAI prevention" interesting. It has been beneficial for me to understand the science behind Standard Precautions as this is an important but often undervalued day-to-day practice. I firmly believe prevention is a more proactive strategy than control.  
What did you find most challenging about the course?   
I have not written essays for a long time in an academic setting. Initially this was daunting but the College provided terrific resources to assist with academic assignment writing. It was not easy to adjust my working time and study initially, but doing the course is a valuable investment.  The course facilitators helped me overcome challenges as I studied.
Would you recommend FIPC to colleagues and if so why? 
 The course allowed me to apply infection prevention and control knowledge to day-to-day practices.  Also, It provides a valuable pathway for further learning and is an essential resource for those wishing to pursue a career as an Infection Control Professional. I strongly recommend this course to any professionals who work in environments that require infection prevention and control strategies to be implemented.
Finally what do you do to balance work and study \ what do you do in your downtime \ to de-stress?   
I do love nature! My family goes for a walk every Saturday to parks. Once I see the blue sky, all my stress is flying away…