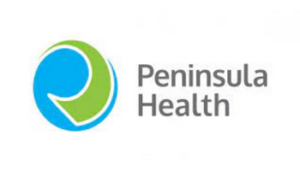 Position Title: Infection Prevention and Control Clinical Nurse Consultant
Employment Status: Permanent Full Time, Permanent Part Time
Location: All Sites
Closing Date: 19/10/2022
Who We Are and What We Stand For
Peninsula Health is the major metropolitan health service caring for a community of 300,000 people. Our Vision is to provide exceptional health and community care. To realise this vision we need people who strive for a sense of achievement, take an interest in their individual growth, enjoy innovation and looking for ways to improve and have a passion for communicating and connecting with others.
In representing Peninsula Health, we expect all employees and volunteers to reflect our values: Be the Best, Be a Role Model, Be Open and Honest, Be Compassionate and Respectful and Be Collaborative. We are One Peninsula Health.
What You Will Be Doing
The position assists with the development, implementation and evaluation of the infection control and prevention program. A key aspect is working to inform and educate staff about best practice in order to prevent infection outbreaks and to minimise risk of infection transmission.
What You Need
We anticipate you will have:
Minimum 3 years post graduate registered nurse experience
Current AHPRA registration as a Registered Nurse
Recent Infection Control Experience in and acute / subacute care setting
Nurse Immuniser qualifications ( desirable)
Additional Requirements
Peninsula Health is an Equal Employment Opportunity Employer that is committed to inclusion and diversity. We encourage applications from individuals from all cultural backgrounds including Aboriginal and Torres Strait Islander people. We also provide a safe and supportive workplace for people with disabilities.
Selection Criteria
Essential: Do you have 3 years Post Graduate Registered Nurse experience or qualifications?
Essential: Do you have recent Infection control experience in an acute / subacute healthcare setting?
Essential: Are you a registered Nurse with current AHPRA registration?
Desirable: Do you hold nurse Immuniser Qualifications?
Desirable: Do you have hand Hygiene Gold Standard or local auditor?
For more information please visit: https://peninsula.mercury.com.au/ViewPosition.aspx?Id=7dTkKINqhzI=&k=31874&C=0&L=0&I=2&J=0&P=0&S=&jbc=ere
Contact Person: Susan Gonelli
Contact Number: 0434945118
Alternate Contact Person: Kelly Daly
Alternate Contact Number: 97847722