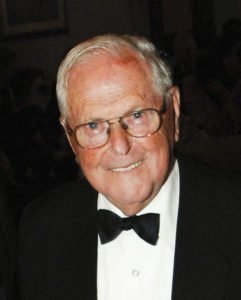 It is with deep sadness that we announce the passing of Mr Reg Whiteley. Reg had a long and distinguished career, as a business founder, an innovator and an initiator of so many enduring organisations. Reg originally graduated as an industrial chemist from the Royal Melbourne Institute of Technology and went on to work in a variety of positions, until moving to Sydney in 1955. In 1971, Reg and his wife Moira purchased the Australian General Disinfectant Company and it was renamed "Whiteley Chemicals" in 1976, known today as Whiteley Corporation.
Reg was proudly involved in the coordination and foundation of the NSW Infection Control Association, with the first meeting being held in Reg's office. Reg was a life member of Australian College of Infection Prevention and Control (ACIPC).
Reg was on the steering committee that drafted the first ever Australian Disinfecting testing system under the NSW Therapeutic Goods Act and Disinfectant Test (the TGA Disinfectant Test in 1978), which remains in force through Commonwealth Legislation. Reg was also was the initial author and teacher of the first cleaning managers curriculum at the NSW TAFE, was a founding member of the NSW Branch of the Australian Chemical Specialty Manufacturers Association (now known as ACCORD Australia).
Reg was a fearless competitor and an innovator. He held at least 9 separate classes of patents which were recognised globally. Reg led Whiteley Corporation through competition with the largest global companies in each of the fields of endeavour. He won awards for innovation for various products and was proudly a life member of the Royal Australian Chemical Institute.
Reg was a reliable friend and supporter to many colleagues and staff. Reg has left a solid legacy in the Infection Prevention market and is a huge loss to our industry. He will be sadly missed by his family, many friends, colleagues and communities.