Welcome to the ACIPC Aged Care Resources page. These resources are aimed to support those involved within the aged care industry. This page is always being updated with information/content that will further support those within this valued sector. If you do have any suggestions of content that would further assist you within your role, please email agedcare@acipc.org.au.
There are currently over 3400 Aged Care Leads from facilities across Australia who have become members of the College as they study ACIPC's Foundations of Infection Prevention and Control.  To further support these students ACIPC is putting together resources on this page for the Aged Care Member Group.
Department of Health Resources
The printed pack includes factsheets and posters translated in 19 languages. The translated versions are also available online:
In this short video, Education Manager Jackie Miley speaks with ACIPC Board Member Ann Whitfield about how the course is progressing and opportunities to connect with and support this new group of members.
Update from Ann Whitfield – Aged Care Leads
Aged Care Masterclass
Discover what excellence in aged care infection prevention and control looks like by joining ACIPC's Aged Care Masterclass. This is a series of recorded lectures where you can hear from experts addressing high-level issues including but not restricted to COVID-19 management in facilities.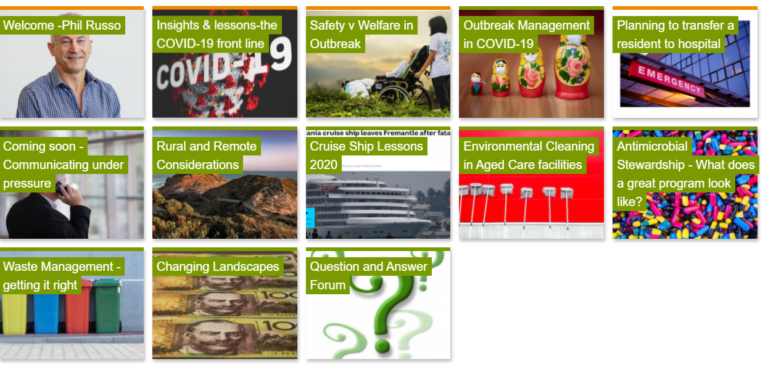 Foundations of Infection Prevention and Control for Aged Care Leads
There are currently over 3000 nominated Aged Care Leads from facilities across Australia undertaking this course following the Commonwealth's requirements for infection prevention training in aged care. Topics include environmental hygiene, outbreak management, employee health, surveillance, epidemiology and microbiology. This course reflects recent evidence, guidelines and standards. Materials on SARS Cov 2, and COVID-19 are included in the course. FIPC provides a valuable pathway for further learning and is an important resource for those wishing to pursue a career as an Infection Control Professional. With 11 self-paced modules, FIPC allows participants to apply knowledge to their own practice and is a key component to achieving the ACIPC Primary Credential (CICP-P). The program has been designed to accommodate busy work schedules, with a series of self-directed learning units supported by a structured online curriculum. Topics include environmental hygiene, outbreak management, employee health, surveillance, epidemiology and microbiology. $1820 non members.  This course reflects recent evidence, guidelines and standards.  Aside from the Aged Care Leads intake, the course is available throughout the year and dates are advertised here
Online Short Course in IPC in Aged Care Settings
ACIPC's Short Course in Infection Prevention and Control in Aged Care Settings is an online version of our popular face to face Aged Care workshops which has been delivered all over Australia in the last couple of years. This course is designed for individuals from a variety of roles/professions working in an Aged Care Setting. It is recommended that participants have a background in nursing. It comprises 6 modules, about 18-20 hours learning, which consist of self-directed learning supported by online resources, video, structured reading, webinar content, moderated forum discussion, question and answer forum, and email. The course can be undertaken over a 6-8 week period and a certificate of completion to students who complete the course. There is no exam. $500 flat fee.
Insights from the COVID-19 frontline video series
ACIPC are delighted to make available these three recordings from Ann Whitfield, ACIPC Board Director and Infection Prevention and Control Expert (CIPC-E).  Ann travelled from WA to Victoria to assist with the COVID-19 response in Aged Care settings. The recordings address general insights and experiences, establishing and embedding effective PPE practices, and some advice on care of the wandering resident during an outbreak.
Reports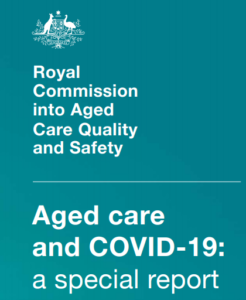 From 10 to 13 August 2020 the Royal Commission into Aged Care Quality and Safety held a hearing as part of the investigation into the response to COVID-19 in aged care. The report contains several key recommendations. Section 5 – Infection control expertise and personal protective equipment contains the following recommendations:
All residential aged care homes should have one or more trained infection control officers as a condition of accreditation. The training requirements for these officers should be set by the aged care advisory body we propose.
The Australian Government should arrange with the States and Territories to deploy accredited infection prevention and control experts into residential aged care homes to provide training, assist with the preparation of outbreak management plans and assist with outbreaks.
CLICK HERE TO READ THE FULL REPORT
Media Releases
MEDIA RELEASE: INFECTION CONTROL COLLEGE SUPPORTS ROYAL COMMISSION'S CALL FOR MORE EXPERTISE IN AGED CARE
The College strongly supports measures to ensure that residential aged care homes have rigorous infection control protocols and staff. Our past experience with influenza and other infectious disease episodes in aged care have already revealed an endemic and ongoing need for more effective infection control, and the lack of onsite expertise. COVID-19 has elevated the gravity and urgency of this need.