These resources are aimed to support those involved within the aged care industry. If you have any suggestions of content which would further assist you within your role, please email learning@acipc.org.au.
Foundations of Infection Prevention and Control for Aged Care Leads
Over 4000 nominated Aged Care Leads from facilities across Australia have undertaken this course following the Commonwealth's requirements for infection prevention training in aged care. Topics include environmental hygiene, outbreak management, employee health, surveillance, epidemiology and microbiology. This course reflects recent evidence, guidelines and standards. Materials on SARS Cov 2, and COVID-19 are included in the course. FIPC provides a valuable pathway for further learning and is an important resource for those wishing to pursue a career as an infection control professional.
Australian Government Department of Health: IPC Leads
Link: https://www.health.gov.au/initiatives-and-programs/infection-prevention-and-control-leads 
About infection prevention and control leads
Each residential aged care facility must appoint a nurse to be the lead person for infection prevention and control. This is an ongoing requirement.
An IPC lead:
must be a member of the nursing staff who has completed an identified IPC course;
must be employed by and report to the provider;
observes, assesses and reports on IPC of the service;
helps develop procedures;
provides advice within the service and will be a key infection control contact;
must work on site and be dedicated to a facility;
may have a broader role in the facility, and could be an existing member of the nursing staff.
IPC lead training requirements
All IPC leads must complete our COVID-19 infection control online training modules, specifically:
Infection Control Training – COVID 19
all aged care modules, except 2.2 or 9.2 which relate to home care.
Suitable IPC courses
For an IPC specialist course to be deemed suitable, it must:
focus on infection prevention and control;
be specified at the level of AQF8;
be delivered by a recognised education or training provider;
have an assessment, or assessments, that facilitate successful completion of the course.
Any course that meets these requirements is suitable.
The following training courses have been identified as meeting the educational requirements of a suitable specialist IPC training course:
Where an IPC lead is required to undertake additional training, providers should support IPC leads to undertake this training as soon as possible, including by providing appropriate study leave.
Department of Health Resources: Vaccinations
The printed pack includes factsheets and posters translated in 19 languages. The translated versions are also available online:
Aged Care Masterclass
Discover what excellence in aged care infection prevention and control looks like by joining ACIPC's Aged Care Masterclass. This is a series of recorded lectures where you can hear from experts addressing high-level issues including but not restricted to COVID-19 management in facilities.
Online Short Course in IPC in Aged Care Settings
ACIPC's Short Course in Infection Prevention and Control in Aged Care Settings is an online version of our popular face to face Aged Care workshops which has been delivered all over Australia in the last couple of years. This course is designed for individuals from a variety of roles/professions working in an Aged Care Setting.
Reports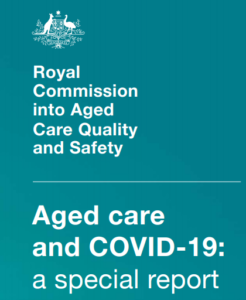 From 10 to 13 August 2020 the Royal Commission into Aged Care Quality and Safety held a hearing as part of the investigation into the response to COVID-19 in aged care. The report contains several key recommendations. Section 5: Infection control expertise and personal protective equipment contains the following recommendations:
All residential aged care facilities should have one or more trained infection control officers as a condition of accreditation. The training requirements for these officers should be set by the aged care advisory body we propose.
The Australian Government should arrange with the states and territories to deploy accredited infection prevention and control experts into residential aged care homes to provide training, assist with the preparation of outbreak management plans and assist with outbreaks.
CLICK HERE TO READ THE FULL REPORT
Media releases
MEDIA RELEASE: INFECTION CONTROL COLLEGE SUPPORTS ROYAL COMMISSION'S CALL FOR MORE EXPERTISE IN AGED CARE
The College strongly supports measures to ensure that residential aged care facilities have rigorous infection control protocols and staff. Our past experience with influenza and other infectious disease episodes in aged care have already revealed an endemic and ongoing need for more effective infection control, and the lack of onsite expertise. COVID-19 has elevated the gravity and urgency of this need.