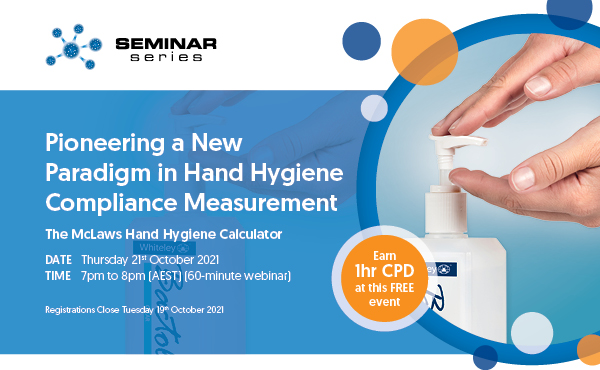 Professor Mary Louise McLaws will be the guest speaker for Whiteley's Seminar Series Webinar in October. Professor McLaws will present a new quantitative approach for measuring Hand Hygiene compliance with less measurement bias. 
Hand Hygiene remains as the single most significant intervention for Infection Prevention and Control. The 5-Moments-of-Hand-Hygiene (5MHH) Program remains probably the most significant intervention for patient safety. The principles of Hand Hygiene (HH) are largely undisputed, but the compliance required under the program has been subject to significant criticism as being overly qualitative and subject to observer bias. A new algorithm used to measure HH compliance is proposed that both removes bias and establishes a new quantitative approach to measure minimum expected compliance and alert Infection Prevention and Control staff about the need to perform on the ward education of the whole clinical team. 
This would be suitable for those working in Infection Prevention and Control staff within healthcare.
Join us for the Webinar:
When: Oct 21, 2021  
Time: 7:00 PM AEDT  
Register: https://login.bettermail.com.au/em/forms/subscribe.php?db=775137&s=586519&a=39907&k=NNYwL6l-H4_qumIiheirjgh34WaaXpYUkdzcovxRUVY
Please note there are limited places available to attend this Webinar. For further information contact Whiteley on 1800 833 566.