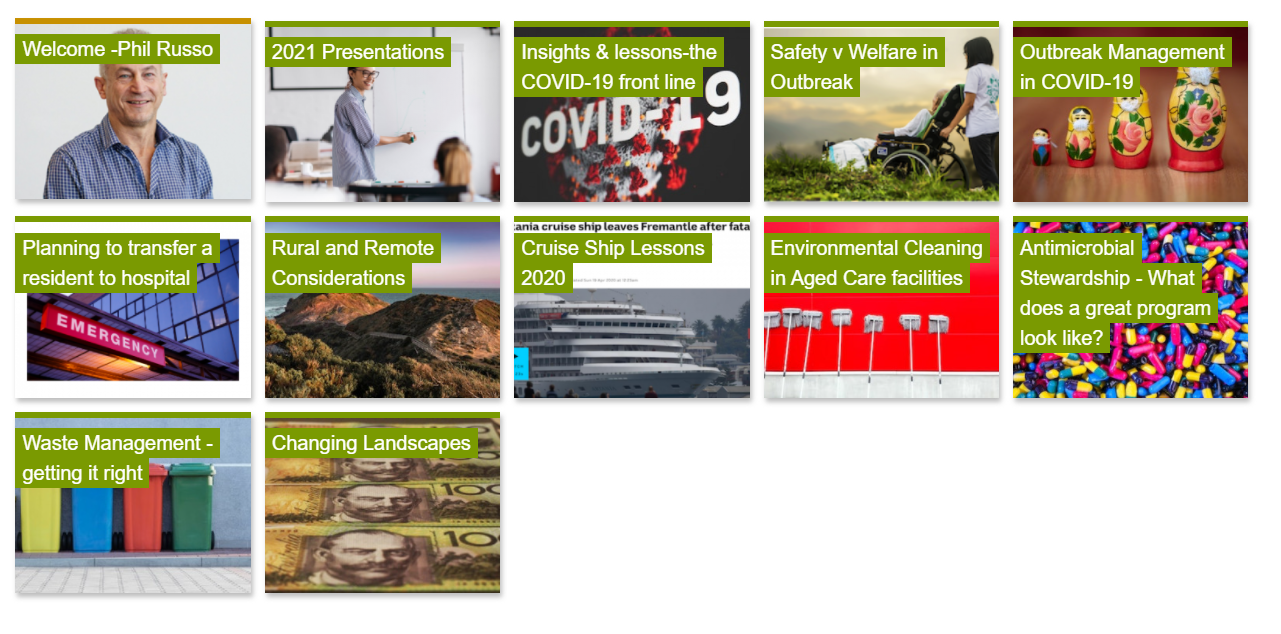 What does excellence in Aged Care IPC look like?
The ACIPC Aged Care Masterclass is a series of recorded presentations addressing high-level issues in Aged Care Infection Prevention and Control Management, including but not restricted to COVID-19 management in aged care facilities.
Speakers
Kathy Dempsey, Ann Whitfield, Carrie Spinks, Luci Rodda, Tara Dobbs, Belinda Henderson, Norman Davies, Dr Jonathon Chambers, Associate Professor Noleen Bennett, Fiona Gotterson.
Target Audience
Anyone interested in IPC in aged care settings, previous students of Foundations of Infection Prevention and Control, and students of Short Online Course Infection Prevention and Control in Aged Care Settings.
Course Costs
$95 – ACIPC Members
$125 – Non-Members
Course Content
2021 Presentations
Insights and lessons from the COVID-19 front line
Safety vs welfare in an outbreak
Outbreak management in COVID-19 – implications for aged care settings
Planning to transfer a resident to hospital
Rural and remote considerations
Cruise ship lessons 2020
Environmental cleaning in aged care facilities
Antimicrobial stewardship – what does a great program look like?
Waste management – getting it right
Changing landscapes
This offering is not assessed, and attendees will receive a Certificate of Attendance once all presentations have been viewed.
I would recommend this course to others within our industry.  The information provided is easily transferable to most settings.  It is also a good insight into what happens outside acute care facilities.  I an new to a clinical nurse consultant role and I find courses like this very valuable.
If the attendee has current knowledge of IPC it is a good refresher along with some new and key learnings around COVID-19.  Everyone who completed it would get something out of each of the modules with some more than others depending on their area of interest, knowledge or expertise.
From the commercial perspective (we supply PPE to health & aged care sectors), these videos provide great insight and first-hand information from professional who work in the aged care industry.  With the knowledge I've gained from this course, I can tailor my marketing material to my customers.  I would highly recommend this course to others even if they don't work in the aged care sector as a clinician or direct care-giver.