"Topical and tropical infectious diseases"
Darwin Convention Centre, Darwin, NT
16-18 May, 2019
The Australasian Society for Infectious Diseases (ASID) Annual Scientific Meeting is the leading Australasian meeting for adult and paediatric infectious disease and clinical microbiology specialists. The conference is an ideal opportunity for connecting clinicians, microbiologists and other health professions with a common interest in infectious diseases and provides a friendly forum for the exchange of scientific advances in the prevention, diagnosis and management of clinical infectious diseases.
International speakers will offer expert global perspectives on our themes and Australasian research and expertise will be highlighted with keynote lectures, proffered papers, symposia and educational workshops.
Themes for 2019 include Global and Tropical health: Disease elimination agendas, indigenous health, infectious diseases of disadvantage and new technologies.
Call for Abstracts Opens – Early October 2018.
For more information and Event updates, click here.

Do you know someone in our field who possesses incredible enthusiasm, provides inspiration to others even in the most difficult of circumstances; and who is a visionary leader that collaborates with others to achieve the best for their team, for the College and for better healthcare outcomes?
Perhaps you know someone that has an unfailing commitment to Infection Prevention and a compelling vision that encourages and motivates others to take purposeful action?
In busy workplaces and with competing demands it can be difficult to pause and reflect on your own leadership capability and those of others.  Often, we work alongside worthy individuals without affording them suitable recognition and acknowledgement of the work they do. The ACIPC nomination process provides an opportunity to highlight the work of individuals who have exhibited exemplary leadership in complex healthcare environments.
Why not take the time to reflect on those you have worked with and to nominate a peer whose attributes you admire or aspire to and submit a nomination which highlights to the broader infection prevention and control community how worthy the nominee is in receiving an award recognising outstanding skill, significant achievement and, visionary leadership in Infection Prevention and Control.
Applications for the Claire Boardman CICP medal for outstanding leadership are now open until Friday 21 September for more information visit the ACIPC Scholarships and Awards page or contact the College Secretariat.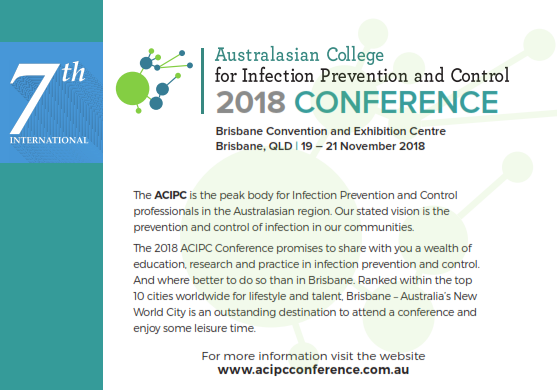 For program updates visit the website www.acipcconference.com.au
Sponsorship of any ACIPC activities does not indicate product endorsement.